UTA Celebrates Accessibility and Inclusion
UTA's Committee on Accessible Transportation (CAT) hosted an event Tuesday, July 26th celebrating the signing of the Americans with Disabilities Act. The CAT is made up of members of the disability community and advocates who provide valuable feedback on UTA services.
UTA staff from across the organization, members of the disability community, and UTA riders helped us celebrate accessibility, independence, and inclusion at UTA. Guests enjoyed talking with members from a variety of UTA departments and discussing ways UTA has become more accessible to riders, they partook in a tasty lunch and celebrated this year's award recipients.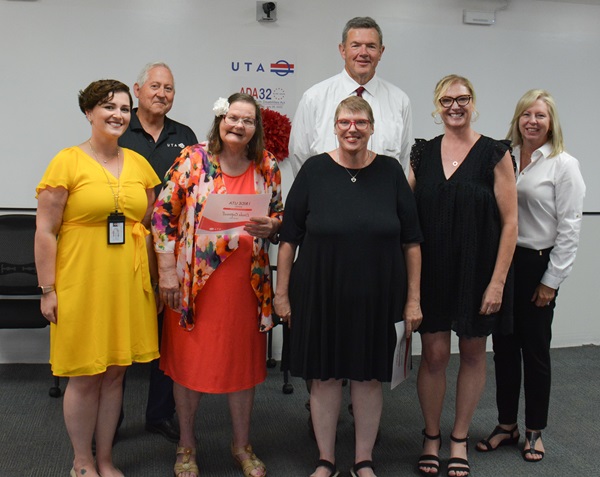 Recognizing Exceptional UTA Employees
The "I Am UTA" award is given to UTA employees who provide exceptional service to members of the disability community. This year we recognized Bruno Salazar, Jackson Weiss, Courtney Forsgren, Stacy Zumwalt, Doraleen Taulanga and Bill Chilton. Thank you for your extra care and attention to our riders, you ARE UTA.
We'd like to give special recognition to Bill Chilton, a FrontRunner train host, who was honored by a family he assists often on FrontRunner. Merrick, a boy with special needs and a huge fan of UTA, made fast friends with Bill while riding FrontRunner with his family. Bill always goes above and beyond to make Merrick and his sisters feel special. The bond is so great that Merrick, who is normally fed via a feeding tube, will always eat whatever special treat Bill has on hand for him. Merrick's mother says her eyes fill with tears of joy watching their encounter each time they meet. Bill has also helped fulfill two of Merrick's Make-a-Wish dreams - a birthday party on FrontRunner and a special ride in the cockpit of the train with the engineer! Merrick's family will soon be saying goodbye to him, as his health has recently taken a turn. They are eternally grateful to Bill for all the memories he helped create for Merrick's family and all the unconditional kindness and acceptance he has shown to them all.
Celebrating Riders with Disabilities
The "I Ride UTA" award recipients are community members with disabilities who choose to ride fixed route service. Having accessible and safe modes of transportation gives riders with a disability the freedom to live life the way they want, like joining community activities or getting to a medical appointment. We honored Nicole Matisohn and her friend Linda Catmull who enjoy taking adventures on transit together. We are so happy to have such amazing riders using our service.
If you're interested in learning more, take a moment to peruse our Accessibility page.
See you next year!