Welcome to the home page for Accessibility section of the UTA web site. For more information on UTA's accessibility programs and services, please click on a link below.

UTA Accessibility features information on how UTA's fixed route service is designed to accommodate people with disabilities, UTA's paratransit program, and web site accessibility.

Learn about UTA's Committee on Accessible Transportation (CAT) and how you can join.

UTA is committed to 100% accessibility for all of its services. Click on a link below for more information on the accessibility of UTA services:
Fixed-Route Accessibility – Learn about how all of UTA's bus and rail service is accessible for passengers with disabilities and the specific accommodations available.
Paratransit Services – A program for people with physical, cognitive or visual disabilities who are functionally unable to independently use the UTA fixed route bus service either all of the time, temporarily or only under certain circumstances. Click here for the Paratransit Rider's Guide.
Web Site Accessibility – An explanation of the design methodology used to ensure the UTA web site is accessible to those with disabilities.
Reduced Fare FAREPAY Card - Did you know UTA offers a reduced fare FAREPAY card for qualified people with disabilities and seniors over age 65? You can learn more about eligibility requirements and download the reduced fare application here. Once you've completed your application, bring it along with your ID and proof of qualification to a UTA customer service office to pick up your reduced fare FAREPAY card.
For information about Reasonable Service Modification for persons with disabilities to access UTA's transportation network, please click here.
On Bus
People with accessibility needs are always welcome on UTA buses. Here are some helpful tips when riding the bus:
When waiting at the bus stop, move close to the front of the bus zone, near the bus stop sign.
Ask the bus operator to lower a ramp if you need it. Buses can also "kneel" or lower the first step rather than use the ramp if that is easier for you.
When using the ramp, wait until the ramp is ready before attempting to board.
Tie downs are available to help keep people in wheelchairs safe. The operator will secure wheelchairs in the tie-down area. Additionally lap/shoulder belts are available on request.
Use the call strip on the seat or lowered pull cord to signal your desired stop.
You may request a courtesy stop to exit the bus at another safe location if a regular stop is not as accessible.
On TRAX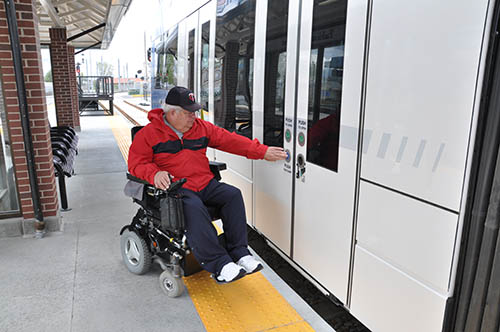 All rail vehicles are accessible to riders with mobility devices and have seating areas available.
Riders who need a ramp to enter the newer trains (on the Red and Green lines) can press the blue "wheelchair accessible" button on the door you wish to enter. A ramp will deploy before the door opens. When the door opens, you can then enter the car.
If you need wheelchair accessibility on the Blue line, each Blue line station has a concrete ramp leading to where the front of the train will arrive. Wait at the top of the ramp until the train arrives. The train operator will open the door for you assist you with boarding and leaving the train. Near the front of each Blue line car, there is a place where those using wheelchairs or walkers can park and ride.
On FrontRunner
All FrontRunner trainsets are accessible to riders with mobility devices and have seating areas available. Make sure you board the new railcars, as those are wheelchair accessible. The older "Comet" cars are not wheelchair accessible.
On each station platform, the trains will queue on the south end, regardless of their direction. The newer railcars with wheelchair accessible boarding will be on this south side of the platform. If you are in a wheelchair or have a mobility device, a train hosts will place a ramp down for you and can help you board if necessary.