ALL UTA TOKENS TO BE DISCONTINUED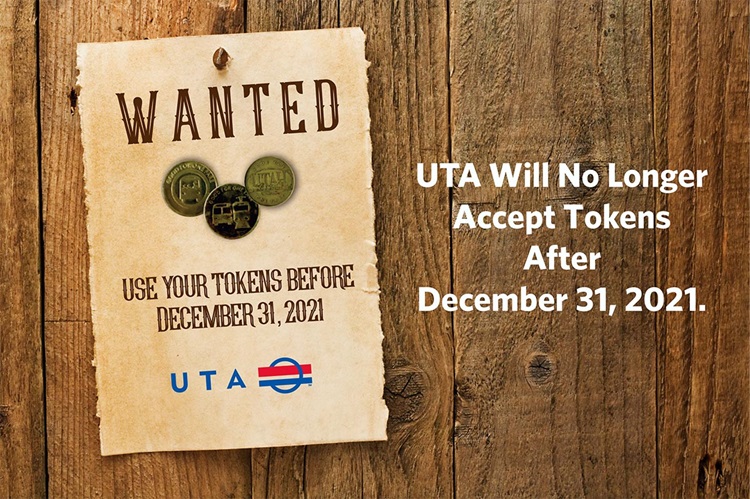 For 50 years, the Utah Transit Authority (UTA) has accepted tokens as fare on buses throughout the entire system. For many of those years, the use of cash or a token was the only fare accepted. As technology improved and UTA expanded its services, along came new ways to pay your fare, including paper passes, the UTA GoRide app and the UTA FAREPAY card, which allows riders to preload their card and simply touch and go, on any vehicle at any time.

UTA is now taking the step to discontinue the use of tokens as valid fare effective January 1, 2022. December 31, 2021 is the last day tokens will be accepted. Tokens have not been available for purchase for some time as we have prepared for this change, but UTA invites riders to exchange their unused tokens for another fare media. This can be done at any UTA Customer Service location:
Visit any UTA customer service center and exchange your tokens for:

A UTA Day Pass (two tokens for every $5 day pass)
Credit of $2.50 per token added to your FAREPAY card
Credit of $2.50 per token applied to the UTA GoRide mobile ticketing app

For information about UTA Customer Service locations, visit https://www.rideuta.com/Rider-Info/Customer-Service
Any qualified Human Service Agency. For more information or to see if your agency qualifies, visit: Human Service Fare Program
Individuals who qualify as 'low income', seniors (65+), youth (under 18) and people with disabilities may apply for a reduced fare card: Reduced Fare Pilot for Low Income Individuals!
We look forward to assisting our riders transition to new fare payment methods as UTA eliminates tokens as valid fare.