Every 3 hours a person or vehicle is hit by a train!!!
The key to stopping these accidents from happening is by "Using your Brains Near Trains". Drivers, Pedestrians, and Bicyclists need to put down their phones and turn of their music so they can use their brains to follow these seven simple safety tips.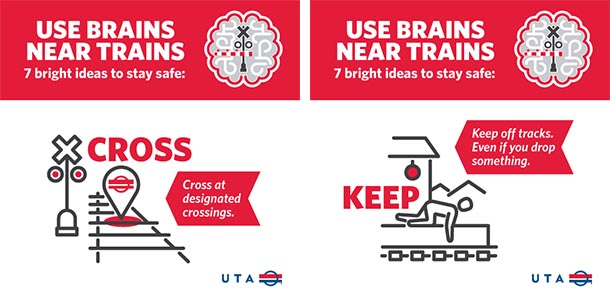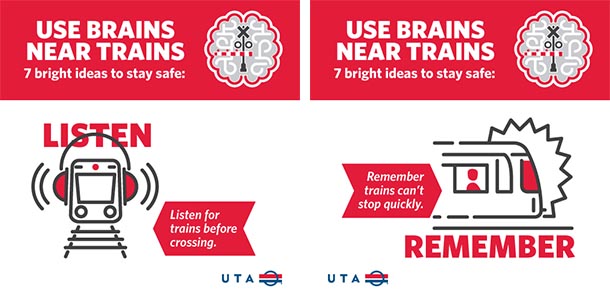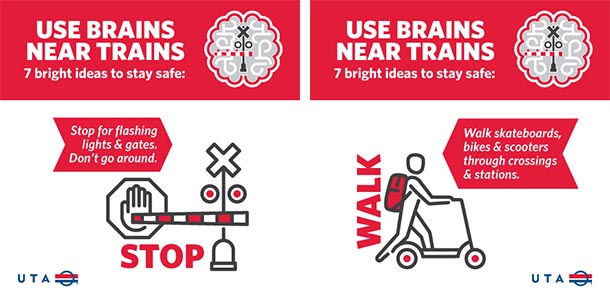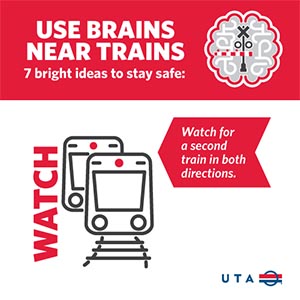 September is Rail Safety Month, so we are going to do our best to help remind you to stay safe near railroad crossings. You will see signs at crossings, bike trails, stations, and on buses. Plus, we will have lots of fun activities to help remind you to Use your Brains near Trains:
Good Morning Monday (Sep 12): Drivers will see I-15 Signs saying "Use your Brains near Trains" to kickoff the week
Clear Track Tuesday ( Sep 13): UTA Police, Salt Lake Police and Utah Highway Patrol will be educating drivers and pedestrians at these crossings: 7200 South 100 East, Central Pointe Station and Provo Intermodal Hub
Wednesday (Sep 14): Join us at the BYU Police Safety Fair
Transit Thursday (Sep 15): Riders will get free gifts from 4:30-5:30 p.m. at FrontRunner North Temple Station and TRAX City Center Station
Football Friday (Sep 16): We will be at Salt Lake School District high school football games tossing out footballs
Social Saturday & Sunday (Sep 17-18): take pics or videos near crossings or stations showing how you are being safe to win concert tickets and gift cards
We hope you enjoy all these fun activities, and remember to Use your Brains Near Trains. Together we can help stop these accidents from happening.