It's Bike Month! The month where we celebrate two-wheel transit.

It's a great time to get out, bike with others and join a Bike Month event.

We're planning on attending a few with our partners. Here's where UTA is going to be out and about this month.
If you'd like to find a Bike Month event near you check out these resources:
In addition, Bike Month gives us an opportunity to update you on our "TIGER" progress. TIGER references a large federal grant UTA was awarded in 2016 to work with UDOT and local municipalities on address missing connections to transit. Each year we make more and more walking and biking connections to UTA network of services.

Completed (or Almost Completed)!
Bike lane on 2700 West in West Valley City to be completed early this summer, near UTA bus routes and employment centers.
Pedestrian bridge in Lehi over SR-92 (Timpanogos Highway) near future Point of Mountain transit options was completed August 2021. This bridge bridge provides a vital north-south connection between vast trail networks in Salt Lake and Utah counties.
Folsom Trail, an east-west bike and pedestrian path connecting to North Temple Station, 500 North and Jordan River Parkway in Salt Lake City has been made possible by UTA's TIGER funding. This 10-foot wide protected path provides connections to numerous neighborhoods and new development.
Lehi Pedestrian Bridge Grand Opening Celebration!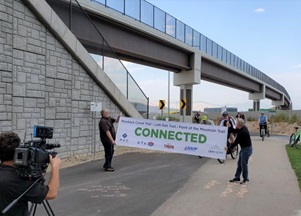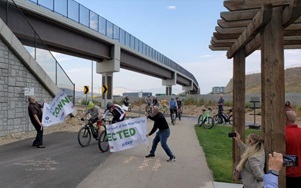 To be completed this year:
24 bike racks and shelters
21 bike repair stands
In motion:
Work has began on the 300 North pedestrian bridge in Salt Lake City that travels over UTA and Union Pacific rail, just behind West High School. This bridge will address safety concerns for high-volume pedestrian traffic from the high school students.
Learn More
If figuring the first and last mile to your transit route has been challenging, we encourage you to bring your bike along. FrontRunner, TRAX and bus are all equipped with places to park your bike safely while traveling with us or you can rent a bike locker at some of our FrontRunner stations. Check out last year's blog to become "bike-versed."